WIN A FANTASTIC 2018 MOVELITE T2 – COURTESY OF OUTDOOR REVOLUTION!
Tuesday, 5 December 2017 | Admin
Following our recent motorhome Blog, which received a big thumbs up from The NCC (The National Caravan Council) and Visit England, Tent Hire's online community has a fantastic opportunity to win a driveaway awning of their very own.
We have joined forces with 'Outdoor Revolution' to ensure a 2018 season to remember for one lucky family.
Simply enter our competition (terms and conditions apply), via Twitter, Facebook or www.a2zcamping.co.uk and you could be the proud new owner of a superb updated 2018 Movelite T2 product that is at the cutting edge of innovation and technology, and retails at £559!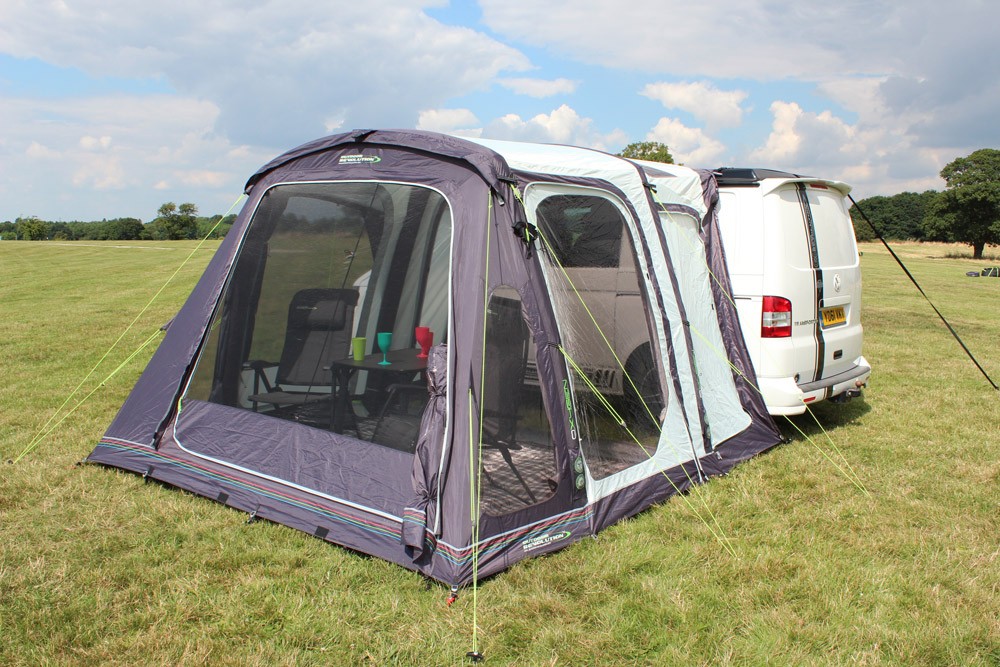 Flexibility is a key feature of the Movelite T2.
Coming in a Graphite/Ivory colour combination, the T2 comprises of two separate Oxygen Airframe tubes (which inflate in approximately 60 seconds), making it, so say the manufacturers, one of the fastest and most efficient driveaway awnings available.
Benn Crookson, Business Development Manager at Outdoor Revolution, said: "The T2 is packed with technology and features, providing endless benefits to the end user and ensuring maximum enjoyment."
Optional extras for the product, which affords wheelchair access, include (but are not restricted to):
Movelite Canopy;
Magnetic Driveaway Kit;
Jet Stream Inflator;
Standard width of the T2 is 310cm, the depth being 250cm. There are three options for height - the Lowline being 180-22cm high; the Midline 220-255cm high; the Highline 255-305cm high. It is absolutely imperative that any competition entries measure their rail height correctly and select the correct model, as mistakes cannot be rectified (see T's & C's).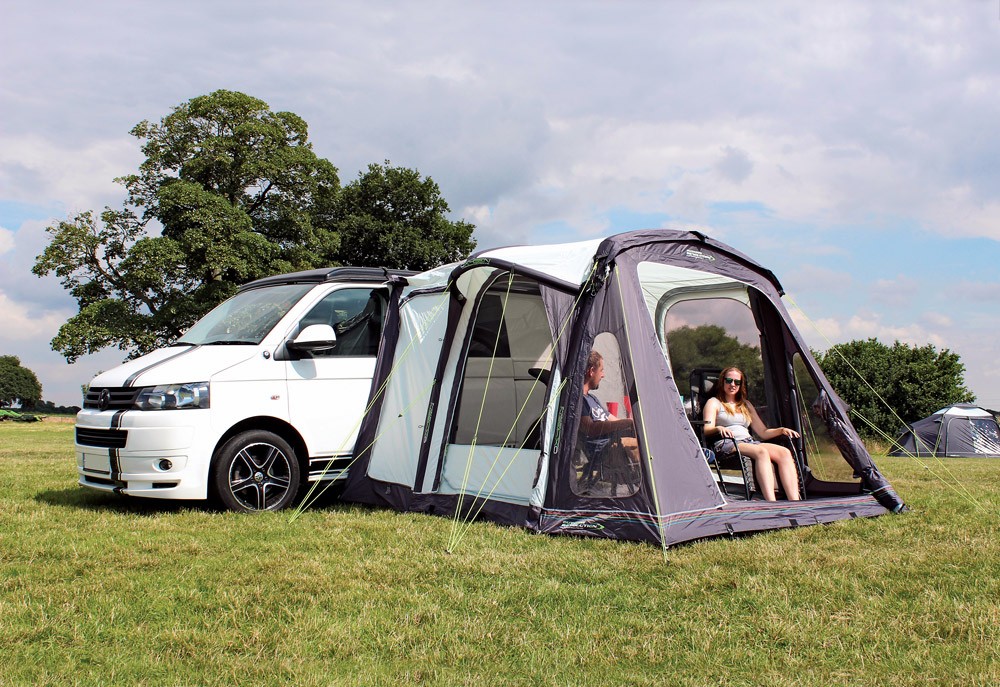 The cabin style front door can be zipped back to open up the front of the awning in warm weather.
For the complete Movelite T2 specification visit www.outdoor-revolution.com
To enter the competition, either:
'Like' and 'retweet' the Blog on Twitter. A 'follow' for a2zcamping would also be appreciated;
'Like', 'comment' and 'share' the Blog on Facebook;
'Leave 'comment' about this Blog at www.a2zcamping.co.uk
The competition will run until January 27, at which time, a winner will be selected at random from entries submitted.
Any entry, regardless of platform used, will be assumed to have read the full terms and conditions attached to this promotion. These are non-negotiable.
Terms & Conditions
1. Entry is free. Only one entry per person. Competition open to over 18's only.
2. No purchase is necessary.
3. These terms and conditions are deemed to have been accepted by entering the competition.
4. Personal information submitted to Tent Hire Ltd will be treated in accordance with Data Protection Legislation. This information will not be disclosed to a third party.
5. There is one prize available. Prizes are not transferrable. No cash alternative will be offered.
6. The prize winner must ensure they have measured their vehicle correctly before selecting the driveaway awning (either Lowline, Midline or Highline). Mistakes made by the competition winner will not be rectified.
7. The closing date of the competition is 5pm, January 27, 2018. No entries submitted after this time/date will be accepted.
8. The winner, selected at random, will be notified within 7 days of the draw. Tent Hire's decision will be final. No correspondence will be entered in to.
9. The prize winner agrees to allow Tent Hire to use his/her name and country of residence for promotional purposes.
10. If the chosen winner is not contactable within 72hrs of the original draw, a new winner will be selected.
11. Tent Hire reserves the right to alter the rules and the terms and conditions, amend or foreclose the competition without prior notice.
12. No liability shall be attached to Tent Hire if events occur beyond its control render awarding of the prize impossible.
13. Basic cost of delivery of prize will be absorbed by Tent Hire. However, additional costs for 'out of area' delivery, plus postage to non-mainland UK areas, will have to be met by the prize winner. The prize winner will be advised of any implications before item is dispatched. If the prize winner does not wish to pay for postage, a fresh random draw will be made.