2016 Kampa Inflatable Caravan Awning Range
1 Comment
Saturday, 12 September 2015 |
Josh
So what's the big deal with the new 2016 range of Kampa inflatable caravan awnings?
It's a question we're often asked, with so many manufacturers now producing 'Air frame' or inflatable awnings, what makes Kampa products stand out from the crowd? Well firstly Kampa are the only UK awning manufacturer to incorporate a single inflation point across their entire caravan awning range. Kampa's patented tubes and valves allow the user to inflate their awnings from a single point and then, importantly, isolate each tube individually – making for a more durable and easy to maintain product.
One of the biggest fears with any inflatable product is punctures! It's only natural to consider such circumstances, but in reality – and in no small part to their design – punctures are incredibly rear. Firstly the tough rubber type inner air tubes are enclosed in their own strong protective sleeve, which acts like an inner tube in a tyre. The inner and outer tubes work together to provide protection, rigidity and the integrity of the air frame. Both the inner tube and its outer sleeve are then held in place within the awnings fabric by a third layer of material, which gives the awning its distinctive shape. Punctures although very rare can be easily dealt with because each tube can be isolated making replacements or repairs quick and easy without unnecessary drama.
Kampa's undeniable success in the design of inflatable awnings has seen even more models coming to market, and 2016 is no exception. Indeed nearly 60% of Kampa Caravan Awnings are now inflatable products. The new range offers a dozen products in various sizes made from two material types; the 'Feel the difference' 150D Weathershield Heavy Duty Polyester and the impressive 'Feel the difference' 300D Weathershield Double Coated Oxford Polyester 'PRO' range material. Both offer a hydrostatic head (measurement of water resistance) of 6000mm, both fabrics are Flame Retardant, UV stabilised and naturally seams are hot air taped and sealed for maximum weather resistance.
Introduced in 2013 the Kampa Rally Air 260 and Rally Air 390 are the entry level models in Kampa's Air Inflatable Awning Range. Not to be mistaken for a basic awning, the 2016 Kampa Rally Air 260 and 390 are packed with features which have evolved to make these awnings one of the most popular lightweight awnings on the market.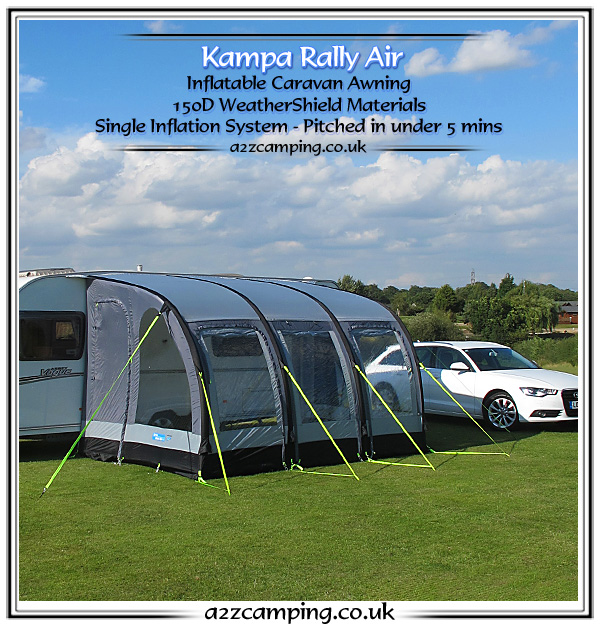 The 2016 Kampa Rally Air 260 has two roll to the side front panels with Crystal Clear windows and internal window blinds with neat storage pockets for when the blinds are not in use. The 2016 Kampa Rally Air 390 has an additional roll up central panel which can also double as a front sun canopy if required. Again internal window blinds are included. Both Rally Air awnings have a large entrance door on each side with secondary 'no-see-um' flyscreen mash panels to allow the doors to be opened for ventilation whilst keeping out even the smallest of flying insects. Rear sealing bumper pads are sewn onto the awnings which help seal the awning against your caravan. Rear upright poles can also be purchased to further improve this seal without the risk of damaging your vehicle – we recommend using these upright poles particularly on windy sites.
The Kampa Rally 260 and 390 Air have ventilation panels built into both side panels, high in the eaves to ensure good air flow throughout the interior which plays an important role in reducing condensation associated with lightweight awnings. Other features found on the new 2016 model include compatibility with the new Kampa SabreLight awning lighting system, front to back awning hanging rail, AccessoryTrack and of course inner bedroom tent. Every Kampa inflatable awning comes complete with a suitable caravan draught skirt and high capacity hand pump making set up easy and extremely quick.
2016 Kampa Rally Air Pro inflatable awnings are the next generation in Kampa's Pro range products. Available in four widths the Kampa Rally Air Pro 200, Rally Air Pro 260, Rally Air Pro 330 and Rally Air Pro 390 are all made from the super durable 'Feel the difference' Double coated 300D Weathershield Oxford Polyester fabric. Offering the same features as the 'standard' Kampa Rally Air with a few extras to boot!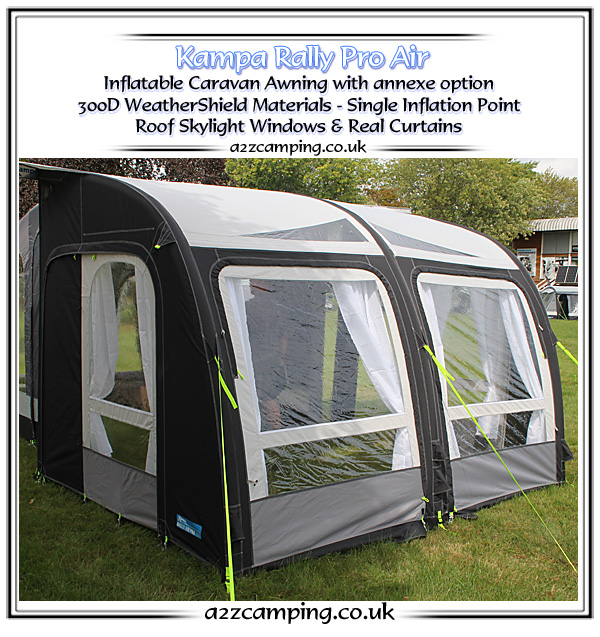 The 2016 Kampa Rally Pro Air range all have large zip out (roll down) side panels which, when removed, accommodate an optional bedroom annexe ideal for those wishing to increase their sleeping or storage capacity. Available in two 'flavours' the optional annexes are available in either a Poled annexe or Inflatable Air annexe both made from the same 300D Weathershield material and naturally colour matched to compliment the Kampa Rally Pro Air Awning perfectly.
But the improvements don't stop there. Kampa have introduced new Skylight window panels to the entire 2016 Rally Air Pro range, giving the interior a superb light and airy feel with a total new perspective to the outside world. Real awning curtains running on their own curtain tracks, brings a luxury feel to the living space which extends a full 250cm deep. Despite being a little heavier than Kampa Rally Air Pro awnings are just as quick and easy to setup thanks to Kampa's clever Quickpitch guying system, which allows the entire awning to be inflated and pitched in under five minutes – now that is impressive.
The smallest Rally Air Pro 200 inflatable awning with a single rectangular skylight roof window has a large single aspect front panel which can be rolled to the side offering a super large front entrance or rolled down to produce a veranda style awning. The side panels both have an integral door and widow panel and important 'no-see-um' secondary flyscreen mesh. The larger Rally Air Pro 260 has the same side panels with two roll to the side front panels again with a veranda option. Additional the Air Pro 260 has two triangular roof skylight windows.
The amazing Kampa Rally Air Pro 330 maintains the two front panels with a wide, almost panoramic front window configuration. Both side panels roll to the side with Skylight roof windows above making the living area incredibly light and airy. Without a doubt the Kampa Rally Pro Air 330 is one of the most attractive inflatable awnings on the market both inside and outside.
Probably one of the most recognised of all the inflatable awnings is the Kampa Rally Air Pro 390. The largest in the Kampa Rally Pro Air family, the 390 has three large front panels, with the two outside panels rolling to the side and the central panel rolling up or used as a front sun canopy with optional canopy poles. Inside the awning has a spacious, light and extremely airy living space with three large skylight roof windows and real awning curtains. It's easy to forget you're inside an inflatable awning which took minutes to erect whilst you look out at those still struggling with their poles! A feeling of luxury and superiority comes as standard with the 2016 Kampa Rally Pro Air range.
If simplicity and flexibility are top of your list the new 2016 Kampa Fiesta Air Pro 280, Fiesta Air pro 350 and Fiesta Air Pro 420 are certainly worth a consideration. The Kampa Fiesta Air Pro range has a very distinctive front arched aspect, all with an extra large front panel which can be either rolled back or completely removed. This allows the Fiesta Air Pro to double as a superb sun canopy – even the side panels can be removed which opens the awning up completely on those warm summer days.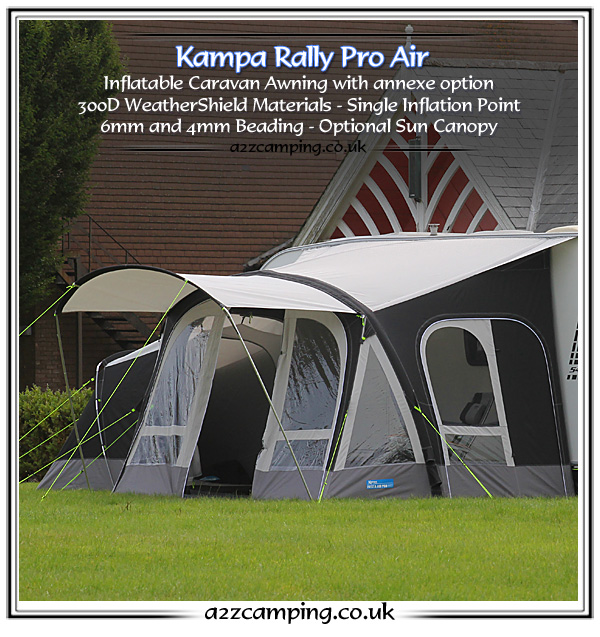 The smallest in the range is the Kampa Fiesta Air Pro 280 with a footprint of 280x275cm, next comes the Kampa Fiesta Air Pro 350 with a 350x275cm living area and finally the Kampa Fiesta Air Pro 420 measuring 420x275cm. All designed to fit both caravans and motorhomes with an awning rail height of between 235-250cm additionally the Fiesta range have both 6mm and 4mm Keder beading – allowing them to be attached to either standard awning rail or Fiamma type roll out sun canopies.
All three Kampa Fiesta Air Pro awnings can be extended with a zip on Front Sun Canopy designed to provide an elegant outdoor shaded entertaining area whilst offering protection from the elements. Sleeping accommodation can be increased with the addition of the optional bedroom annexe, which zips onto either side of your awning when the side panel is removed. The bedroom annexe comes complete with a removable bedroom inner tent so they can easily be used for storage for bikes, chairs or camping furniture.
The new 2016 Kampa Ace Air Inflatable Awnings are luxury personified. The most sought after inflatable awning in 2015 now comes in three convenient size options. The all new 2016 Kampa Ace Air 300 as the name suggests is 3m wide and a full 3m deep. Weighing only 21kg, the Ace Air 300 has two wide aspect front panels with matching roof Skylight windows and real internal awning curtains adding to the luxury feel of this range. Both side panels can be rolled down or completely removed allowing for the addition of an optional bedroom annexe.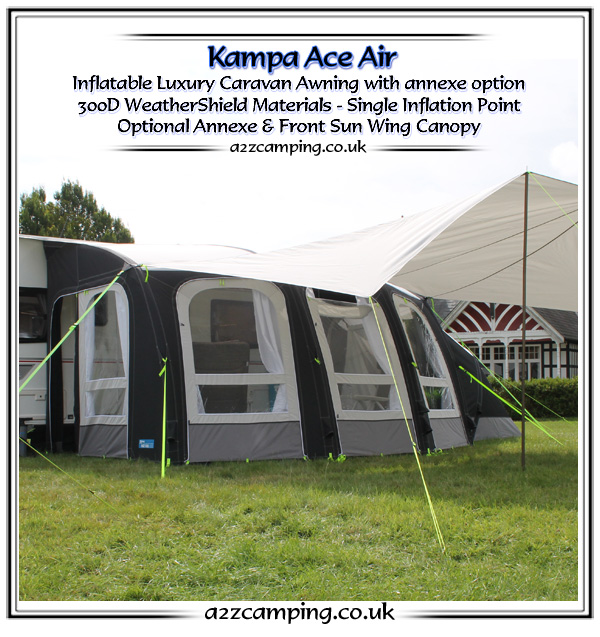 The
Kampa Ace Air 400
is 3kg heavier with three front panels, two of which roll to the side with the central panel rolling up. Matching Skylight roof windows ensure a light and airy interior with a real feeling of space and luxury. Again the side panels can be removed allowing bedroom annexes to be added as an optional extra.
The daddy of all inflatable awnings, the new 2016 Kampa Ace Air 500 is a full 5m x 3m awning with three wide aspect front panels. Suitable for larger caravans, the Kampa Ace Air 500 is a superb example of how an inflatable awning should be made. Oozing luxury and packed with the best of the best – the Kampa Ace Air 500 feels enormous inside and is incredibly light and airy. Large roof Skylight windows together with an almost panoramic front view and large side panel windows make it easy to forget this is an inflatable 'porch' awning. The living space has real awning curtains, crystal clear windows, and can be further 'customised' by adding a range of optional extras like luxury roof liner, awning AccessoryTrack organiser, hanging rails and even the new Kampa SabreLight awning lighting system. The Kampa Ace Air range has to be seen to be believed.
No question the inflatable awning has certainly come of age and Kampa are no doubt happy to have a family of inflatable awnings destined to be best sellers and truly desirable. Check out the entire range at www.a2zcamping.co.uk from October 2015
Copyright 2015 Darren Young, www.a2zcamping.co.uk 2015 All Right Reserved.