Motorhome Mods - Solar Powered Motorhomes
Wednesday, 19 November 2014 | Admin
Motorhome holidays are a tremendously popular choice in the UK with the volume of new and used motorhomes, campervans and van conversions growing every year. The choice of vehicle types and specifications is mind blowing - but there's always room for improvement it would seem. The popularity of van customisation or modification has also seen a massive growth over the past few years. There is a vast quantity of add-ons and gadgets which can be added to your vehicle to enhance your holiday experience of simply to add a touch of 'Bling' to your motorhome.
A recent survey published by caravanguard.co.uk made for interesting reading with a surprisingly 78% of online voters said they had made a modification to their motorhomes or campervans - leaving only 22% who had never modified their motorhome at all.
The full breakdown of results can be found here; but at the top of the list, 30% of voters told them they had added solar panels to their motorhomes (a number of you also left a comment to let us know you had fitted a second leisure battery in combination with the solar panel). Cruise control was a popular choice, scoring 10% of the final vote, so too was installing an air suspension system which again, scored 10%. Motorhome engine remapping or rechipping received 8% of the vote, while upgrading tyres came in with 4%.
It's clear that alternative, cheaper energy supplies are taking the forefront in vehicle technology; some of the worlds biggest and well known brands are slowly introducing greener energy concepts. Take Mercedes-Benz for example.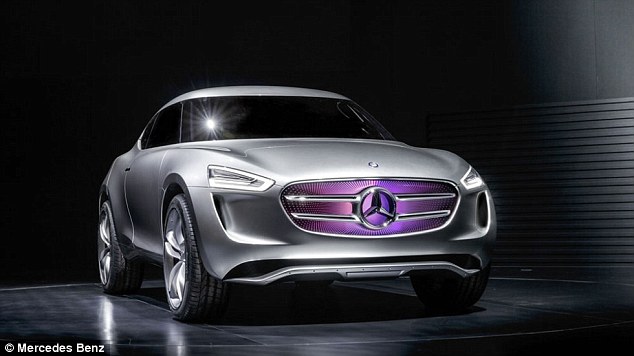 The German car manufacturer have recently unveils a new concept vehicle that harnesses energy using its paintwork.
The Mercedes Vision G-code uses something known as 'multi-voltaic' silver paint which captures energy from solar rays to power a unique hybrid engine. The concept car can also generate power using electrostatic charge from the wind as it travels along.
Sure these technologies are still at the concept stage, but they will inevitably become more mainstream as manufacturing processes become available. Just look at sat nav's, hybrid engines and full electric cars - these things were a laughing stock 10 years ago and are now commonplace. As uptake of new technologies grows the cost often comes down, this is certainly true of solar power and solar panels.
One of our most popular winter products is our inexpensive solar trickle charger for example. This small solar panel is designed to provide a trickle charge to your leisure battery over the winter months, keeping your valuable leisure battery in tip top condition. It is essential to ensure your leisure battery is charged throughout the winter and what better way that to use the free energy all around us! https://www.a2zcamping.co.uk/leisure-battery-charger/sunforce-18w-solar-battery-trickle-charger.html
The charger can also be used to charge your main vehicle battery. The simple kit contains the solar panel itself and connection to attach it directly to your leisure battery or via the vehicle cigarette socket, to the main battery. It really couldn't be easier.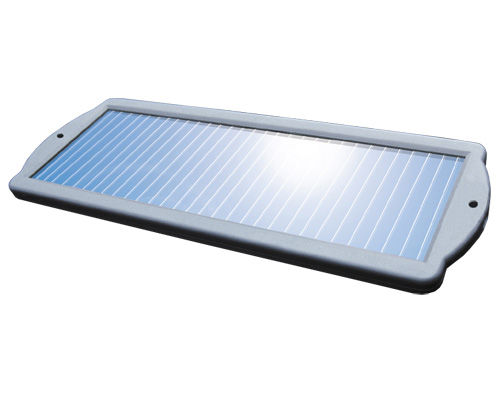 Of course this is only a small example of how you can access more free energy. But why stop with a trickle charger, when you could power your entire motorhome or campervan with an array of solar panels. Even better still you can start small and build your system as your needs or ambitions increase.
Vision Plus, a very well respected motorhome and caravan television manufacturer have recently introduced their Solar Panel system. The SOLAR 40 Battery Charger System is designed as an expandable system for those looking for power independence but unsure of their power requirements. The flexible solar system is designed around this 40W MASTER Panel and the high specification Power Controller which allows the addition of up to three ADD-ON Panels to give a maximum capacity of 160W.
Once the MASTER Panel is installed, ADD-ON Panels simply glue into place, no special tool or drilling of holes required.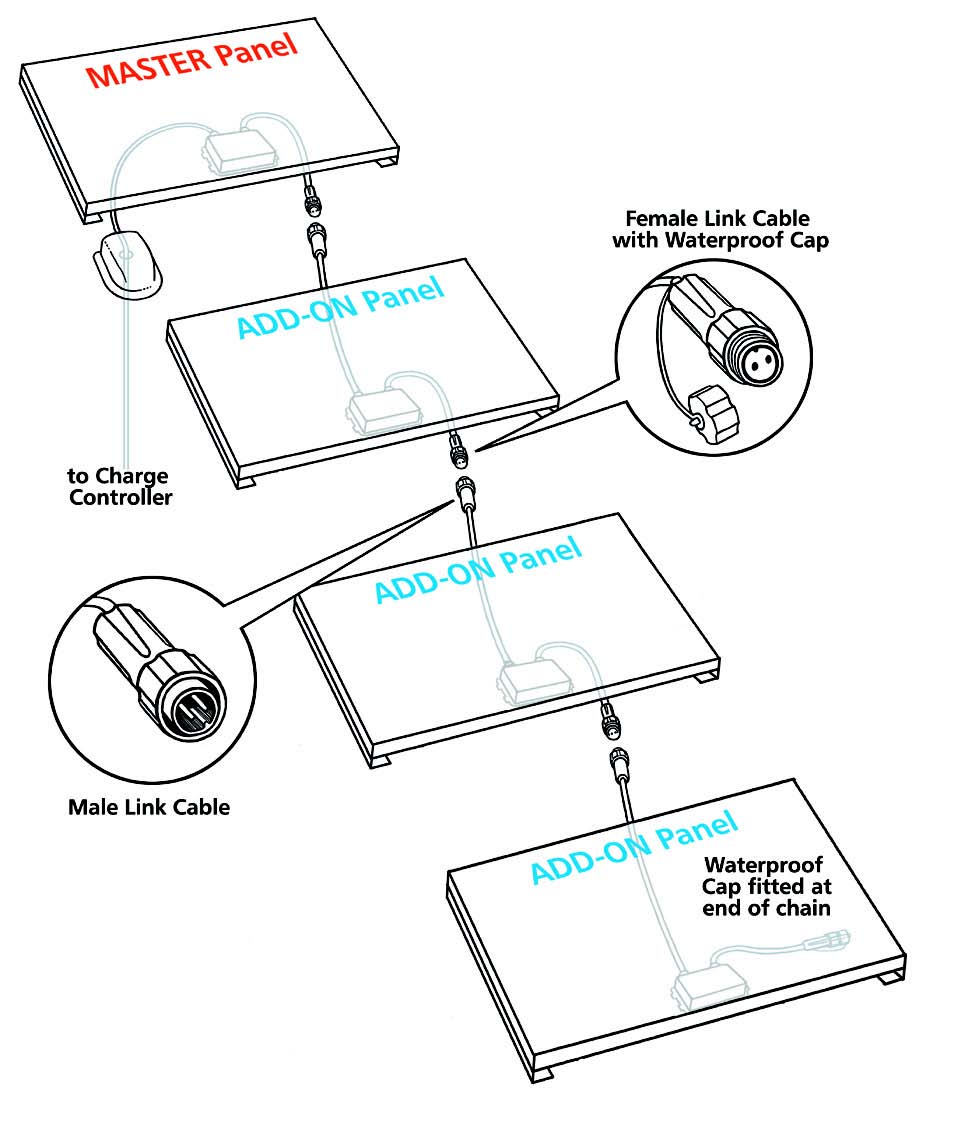 The ADD-ON Panels come fitted with the female link cable with integrated waterproof cap, plus the 3 metres of white male Link cable to allow maximum flexibility when locating additional panels on the roof.
Included in this MASTER Panel Kit:
40 Watt hour solar panel

12 Amp Voltage Charge controller

Roof mount cable gland

5 metres of power cable

350 mm female link-cable with water proof cap

In-line fuse

Connectors & Fittings

Full Instructions
Easy to install and simple to upgrade as and when you need to, makes this product a simple solution to what many people fear is a complicated problem. One panel delivering 40W hours of solar electricity can run your lighting, television and water pump for a small campervan like a Volkswagen T4 for example. Then if you need more power a second, third or forth panel can be quickly and easily put in place.
https://www.a2zcamping.co.uk/leisure-battery-charger/vision-plus-solar-master-panel.html
The feeling of being total independent of expensive site hook ups and knowing your running on free energy is very liberating. Depending on how often you camp and how much power you use, it's easy to see how these systems can pay for themselves over a very short period of time.
Imagine then in another 10 years or so, when your campervan or motorhome is painted with a new solar reactive paint and can charge your leisure battery with the power of the wind or electrostatic energy as you drive.
The science of the future is sure to make us all a little greener - whilst the science of today can help us save a few hard earned pounds. Embracing these new technologies need not be as scary as you think and can be easily adopted without major vehicle modifications. But if you do need further advice or have any question, please let us know and we'll do our level best to help you on your way to a greener future.
Darren Young - www.a2zcamping.co.uk
Copyright 2014 - a2zcamping.co.uk