Home is where the heart is
Friday, 17 November 2017 | Admin
Home is where the heart is...
A comment from a Tent Hire director set me thinking this week. It's probably a conundrum that many are pondering during this short Autumnal snap before Winter sets in.
"Going abroad has lost its appeal," she said. "It's the UK for me going forward."
Upon hearing this, I scoffed, suggesting it was a knee-jerk reaction to a lengthy airport delay when returning home from an obscure bolt hole in Europe.
"Time is a great healer," I replied. "You will soon forget."
But I discovered that an uncomfortable departure lounge experience had nothing to do with it.
More so, it was the political and social uncertainty that is currently casting an ever-larger shadow across the four corners of the globe, plus Brexit (sorry for that!) and the increased cost burden that the pound's fall means, and a realisation that praying for an unforgiving sun to 'do one' during five months of the year throughout most of Europe isn't appealing at all.
Is a new age of the 'staycation' upon us?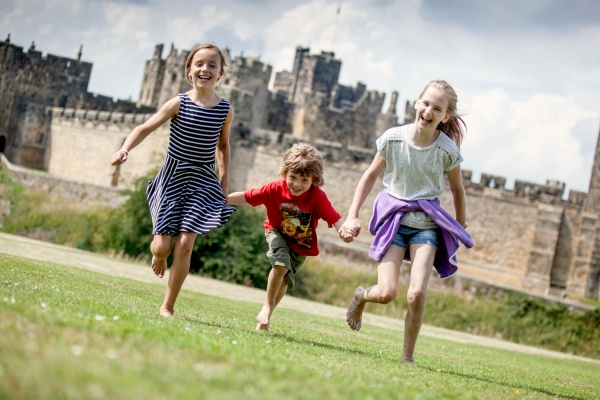 These shores offer something for all of the family.
Guaranteed weather is the only ingredient that the UK lacks when comparing the pros and cons of potential holiday destinations.
It has the history, culture, natural beauty and variety that many countries simply cannot hold a candle to. Yes, we have traffic jams, overpriced eateries and overcrowding if you do not do due diligence – but it's an imperfect world we live in, and compromise is a fact of the lives we lead.
Long before the Brexit noun came into being after the momentous vote in June 2016, a staggering 10.8 million trips* of a camping and caravanning nature were taken in England in 2014.
(Camping and caravanning stays are defined as people having camped, stayed in a caravan – towed, static owned or static non-owned)
The GB Tourism Survey data, supplied by Visit England, reveals that camping and caravanning trips accounted for 12% of the total domestic market that year, yielding a spend** of £1.7billion.
In 2015 the camping and caravanning trips figure, again in England, rose to 11.7m trips, with the spend hitting £1.8b.
And just last year the overall trips volume was up once more to 11.9m. Although on this occasion the spend dipped to £1.7b.
The current year's findings will make for very interesting reading, but the Camping and Caravanning Club (www.campingandcaravanningclub.co.uk) stated recently that more and more Brits are opting for short breaks to spend quality time with family and friends.
The C&CC, which represents the interests of 750,000 members, insists that camping, caravanning and motorhoming is becoming ever more popular.
Their own survey, commissioned earlier this year, suggested that 64% of campers use weekend trips and short breaks to recharge their batteries and spend quality time with friends and family.
The findings also found that fewer than 33% of non-campers took short breaks, with 60% taking one main holiday annually.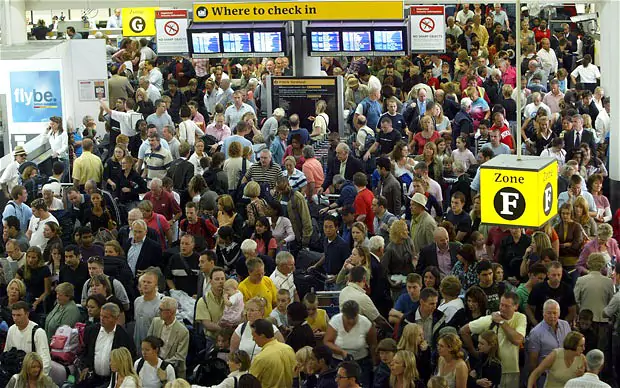 An airport scene that is becoming more frequent.
When the data is analysed and digested, the Tent Hire director might just be a by-product of the changing world landscape. How many more of us with follow suit?
The future may reveal that, after all, home is where the heart is…
*Trips are classified as journeys away from home involving an overnight stay, taken by adults aged 16 and over and accompanying children aged up to 15. Each adult or child present on the trip counts as a trip, for example 2 adults and 2 children taking a trip away would count as 4 trips.
**Spend is the expenditure relating to these trips. It includes costs paid in advance of the trip, costs paid during the trip itself and also any bills relating to the trip received after returning home.
If you've enjoyed this post, I would be very grateful if you'd help spread it by emailing to a friend or sharing it on Twitter or Facebook.
Our Twitter account is: @a2zcamping. Follow a2zcamping on Facebook.
Any comments would also be much appreciated.
Next time: The UK's Motorhome explosion.