Tuesday, 7 February 2017 | Admin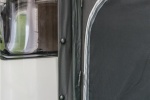 The all new Kampa Limpet Fix System. An ingenious way of fixing the rear wall of your porch awning to your caravan.
Tuesday, 7 February 2017 | Admin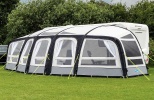 Kampa's new flagship model, based around the incredibly popular Ace Air. Never have we encountered an air awning which offered this much space.
Saturday, 28 May 2016 | Admin
One of the best examples of a simple yet features packed inflatable awning is the Outdoor Revolution Oxygen Speed II - a large 4 metre wide by 2.8 metre deep caravan or motorhome awning suitable for awning rail heights of between 235-250cm. The Speed II has a single span large arched aspect with an impressive 'intelligent' safety air valve system which allows air to escape preventing over inflation and account for air expansion during warm weather conditions. The exclusive Dynamic Speed Valve and one of the most robust air tube on the market provides superb stability, with only one inflation point. So confident are the manufacturers, Outdoor Revolution offer a lifetime guarantee on their air tubes - no other inflatable awning manufacturer offers this type of promise.
Friday, 16 October 2015 | Admin

With such a bewildering selection of different awnings available, knowing your ProTec from your WeatherShield and your 75D from your 300D can make a significant impact on the type of caravan or motorhome you choose to buy. But what is the difference both technically and in the 'real world'? Perhaps we can shed some light on the different materials and fabrics used during the manufacture of caravan awnings within the UK.
Saturday, 19 September 2015 | Josh

Proof that not all caravan awnings are made equal, is more than evident within the new range of inflatable awnings released from one of the UK's most respected manufacturers – Sunncamp.
A total of nine inflatable awnings were on display at their latest trade show exhibition together with a huge range of tents, camping equipment and accessories. Sunncamp's reputation for producing excellent quality awnings packed full of features has certainly been maintained with many improvements to the existing range couple with the introduction of some very exciting new products.
Notably Sunncamp have a brand new flagship awning fabric – ProTec300D. This material features heavily within the new 2016 range and is one of the best fabrics I've seen this year, offering extreme durability, outstanding weather protection and stunning good looks. Sunncamp's ProTec300D has a wonderful feel to the touch and a very pleasant appearance. Naturally the build quality and detailing on all their new products is what we have come to expect from Sunncamp.